Clever Cutter
₹ 399.00
₹ 599.00
SAVE 33%
Take Your Cutting skill to another level and have clean kitchen EVERY TIME # No.1 Must have kitchen item in 2020.

Are you tired of cutting vegetables using knife ? or Do you have to wash the chopping board every time you use it to chop something?
Well we have just the thing for you with Smart Cutter - 2 in 1 Chopper.
Now you can cut vegetables without stress or hassle. It's very easy to use and can be used as a knife as well.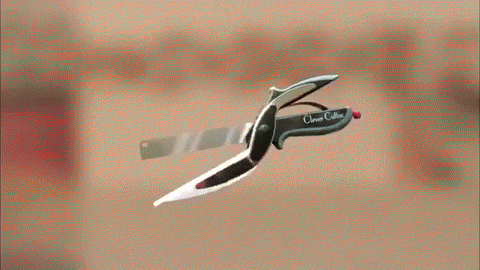 BENEFITS:
Chops vegetables like a Ninja 😅
No More Extra space needed to do the chopping.
Can be cleaned in seconds.
Much safer and durable than a knife.
Chops Veggies Right into the POT.
Features:
Spring-loaded handles for wide

SCISSOR

action.
Works on a Huge Variety of food.
Very easy to

USE.

Razor Sharp

Stainless Steel

Blades
Chopping and slicing is the single most common activity in food preparation. Now, with Clever Cutter it's so simple and quick you'll be chopping like never before!
The chopping board is a staple of any kitchen. But when the chopping is done, you have to transfer all that loose food into a pan or dish, right? MESSY! Well what if the food was already there as soon as it's chopped? What if the chopping board and knife were an all-in-one amazing slicer that cuts as quickly and easily as scissors and lets the food fall right where you need it?
Smart Cutter - 2 in 1 Chopper does just that!
The spring-loaded handle keeps the cutting jaw as wide as possible in the open position to allow a rapid chopping action. To slice and chop with Clever Cutter, you just squeeze down, again, and again, and again!
Vegetables, fruit, sausages, potatoes, even French bread. Just hold the food in one hand and Clever Cutter in the other, then feed and chop. Clever Cutter makes short work of food preparation that used to take up time and create a lot of mess. Now you can chop onions faster than a pro! Ingredients for salads, stews, casseroles and soups can be sliced right into the pot in seconds! Then just rinse under a tap and store your Clever Cutter away until the next time you need it - it won't be long!
But that's not all! Clever Cutter comes apart! Just remove the blade section by unlocking the hinge, and it becomes a single super-sharp kitchen blade for larger food items or carving meat.
If you've watched, with envy, as chefs and show-offs slice through food like a machine, now you can get out your Clever Cutter and show them what high-speed - no mess chopping really looks like! Clever Cutter puts the blade AND the board right in the palm of your hand!
🔥TAP BUY NOW BUTTON! LIMITED QUANTITY AVAILABLE🔥
2 In 1 Multi-Function Kitchen Scissors Cutter Knife&Board Stainless Steel Kitchen Knives Meat Potato Cheese Vegetable Cut
 
Description : 
Material: Stainless Steel Blade & ABS Handle 
Whole Length: 24.5cm
Blade Length: 12cm
Blade Width: 2cm
Chopping Block: 10cm
Handle Length: 12.5cm
Package Include: 
1pc kitchen scissors